Carl Vigeland is the author of 16 books: Symmetry, Walking Trane, Ricochet, October Calf (with Archibald MacLeish), French Lessons (with Joseph C. French Jr.), Dear President Trump: An Open Letter on Greatness, A Symphony for Shelbie, The Great Romance, The Breathless Present, Jonathan Sternbeg, The Mostly Mozart Guide to Mozart, Jazz in the Bittersweet Blues of Life (with Wynton Marsalis), Letters to a Young Golfer (with Bob Duval), Staling the SHark, In Concert, and Great Good Fortune. Vigeland has also written about many different subjects for a wide variety of magazines, including The Atlantic Monthly, Boston Magazine, The Boston Globe Magazine, Conde Nast Traveler, Country Journal, DoubleTake, Downbeat, Fast Company, Golf Digest, Harper's, Harvard, New England Monthly, The New York Times Magazine, The New Yorker, Playboy, Sports Illustrated, and Yankee. An amateur pianist and trumpet player, he is also an avid skier and excellent golfer--activities about which he has often written. Vigeland is a graduate of Harvard, and he was for many years a lecturer in journalism at the University of Massachusetts in Amherst, where he was cited for excellence in teaching. Among other awards, his book In Concert (about the Boston Symphony) received a New York Public Library commendation, and his Mozart research and writing was aided by a residency at Yaddo.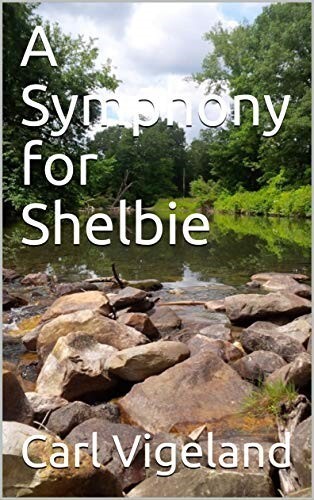 Crossing music and medicine in a hybrid narrative--part memoir, magical realism, medical reporting, and autofiction--set primarily at a great teaching hospital in Boston, Massachusetts, and a famed music venue in the Berkshires (also of Massachusetts), A SYMPHONY FOR SHELBIE vividly portrays a charismatic, Greek-born pediatric oncologist, Giannoula Lakka Klement, whose pioneering form of a chemotherapy administration called metronomics prolongs for four years the life of a teenaged patient, Shelbie Murphy, whose inspiring spirit prompts the novella-length book's benediction-like promise of grace.
At once a writer's autobiography and a road book, with vivid portraits of an unusual group of people—ranging from an early mentor and one-time neighbor, the late poet Archibald MacLeish, to world renowned jazz great Wynton Marsalis (with whose bands Carl Vigeland traveled for many years) and the author's charismatic, tormented father, also a musician--THE BREATHLESS PRESENT tells several intersecting stories in a variety of voices that mirror music's power to transmute memory and affirm life.